*THIS GIVEAWAY IS CLOSED*
Congratulations to Jen H.
I'm teaming up with several other bloggers to support Michigan based businesses and locally made products. Welcome to the 2nd Annual Made In Michigan Blog Giveaway Hop hosted by DETROIT MOM AND HER VIEWS
My love of thrifting doesn't mean I never buy new! But in keeping with a recycling/reusing/conservation-y frame of mind, I enjoy shopping locally as much as possible. Through my Etsy shop I met several local ladies who make amazing products right here in, not only Michigan, but in my town!
Meet Jennifer Gunter, hot mama and One Haute Hostess, a work at home wife and mom to a GORGEOUS little boy. I met Jen at one of the first meet ups of local Etsians. From there a couple of us kept up meeting on a semi-regular basis, and have dubbed out meetings "crafty coffee."  You can imagine we talk about everything under the sun, but we actually still find a few minutes to discuss our current crafts! Jen's specialty is beaded and wire-wrapped baubles – everything from coffee scoops to wedding cake cutters! She has generously offered a salad set for me to give to one lucky reader!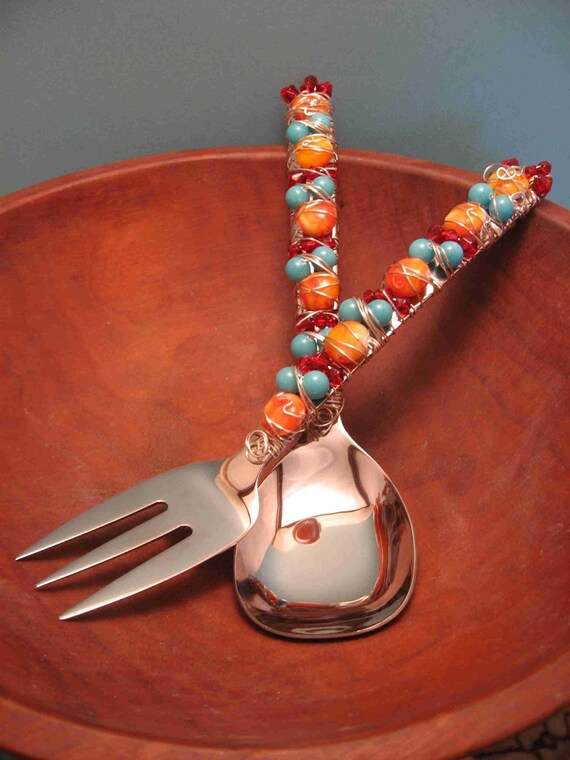 (photo is for example only)
Jennifer was kind enough to answer a few questions about herself so you can get to know the lady behind the hostess gifts! Here's my first attempt at an interview:
What attracted you to beading and wire wrap work?
When my husband and I were engaged to be married, I was trying to find a cake server and knife that we could use to cut the cake that didn't have plastic handles or gaudy bows. I finally decided if I wanted something unique that would fit our fun wedding, I would just have to make it myself. After some trial and error, I came up with something that we used. From there, things just kind of took their own course. My brother got married the next year, as well as a cousin in between, and they all wanted wedding cake sets like ours, so I did them as bridal shower gifts. My grandmother also wanted a pie server to show all of her lady friends when they got together for dessert.
What was your first sale?
My first sale was to a cousin who ordered some wine glasses and spreaders for her mother for Christmas. Friends and family really encouraged me to try craft shows and the like, and then I found Etsy! I love Etsy! Craft shows aren't really my market, so I'd spend an entire weekend (with setup and the like) and sell a few things to make back my booth fee. Etsy allows me to fill orders and promote items at my leisure.
Do you enjoy any other crafty pursuits?
Absolutely! I love doing anything "DIY" around the house–painting, decorating, etc. I have started to dabble a little into sewing–nothing complicated–bibs, pillowcases, etc. I also love to scrapbook because I feel it is important to document my family's memories. I always promised myself I would be more organized than just having shoeboxes full of photos–it seems to be working so far:)
What's it like to be a work at home mom AND a crafter?
Busy–and messy! My little boy loves to "help" so he often scoops beads from one container to another, leaving a giant trail of beads in his wake–nothing a vacuum can't fix! Thankfully, he has never been one to put things in his mouth so we have not had any bead-eating issues
My husband is really good about making sure I get time to get my orders done, and I mostly end up doing it on the weekends or after my son is in bed.
Where can we find your work?
http://onehautehostess.etsy.com
I will also be at Beneath the Tree Nov 9 and 10 in Grand Rapids this year. I have done this show the past 3 years and really enjoy it. It is an open house environment where you can see homes decorated for Christmas and shop artist who have brought their items into each home. It kicks off my Christmas shopping every year!
http://beneaththetree.info
Isn't Jen a doll?!
Enter her to win a one of a kind salad server valued at $30-$40, then hop along to the other blogs and enter to win even more fun stuff!

Welcome to the 2nd Annual Made In Michigan Blog Giveaway Hop hosted by
All of the Michigan bloggers below have joined forces to bring you Products from Made In Michigan Companies.  Each blog has a prize package of at least $25 worth of awesome Made In Michigan products.  Once you've entered here, be sure to hop along to all the others on the list.